PRODUCTS
BOOKS
ORIGINAL ART

ART PRINTS
POSTERS
TOYS
APPAREL
OTHERS
*日本語版は現在作成中です。
完成まで、英語版を掲載しています。
ORIGINAL ART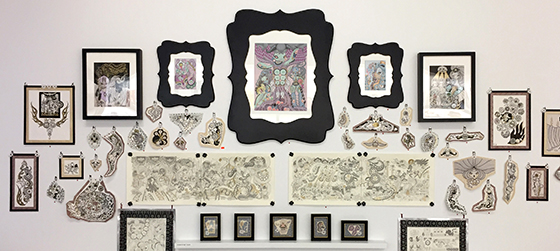 Junko creates paintings and drawings for gallery art shows, usually once or twice a year. Original artworks can be purchased at the galleries below.
Click on the banners to visit their websites and see their inventories.

Gallery and shop in LA that always has Junko's original paintings, drawings, comic pages
and many more. You can see / purchase all the pieces available on their online store.
(The site may take a little while to load)

Sister location of Gallery Nucleus in Portland.
Search their website with 'Junko Mizuno' to find out the products they have.

Art gallery in LA that has Junko's original paintings and pencil drawings available online.

Small shop & gallery in San Francisco that has Junko's original pieces from her art show.
Check out 'TRIAD' and 'Junko Mizuno' sections.