ABOUT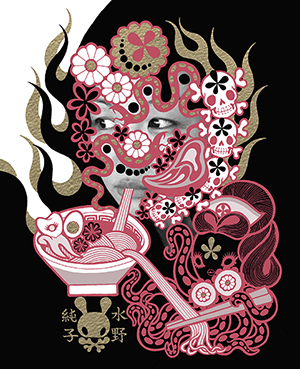 Junko Mizuno (pronounced: JOON-koh mi-ZOO-noh)
b. May 27, 1973, Tokyo Japan

Having grown up in Tokyo, Junko Mizuno is a self-taught artist recognized for her unique visual iconography of powerful and often sexy women.
Although her art refuses to be categorized, much of it is based on Japanese pop culture from '70s and '80s with the sources of her inspiration stemming from fetish art, folk art, religious art, psychedelic art, pin-up art, advertising art, vintage toys, fashion, comic, food, nature, movies, TV shows, video games… almost everything that surrounds her. Currently residing in San Francisco, she is constantly working on new comics, paintings, illustrations, and product designs ranging from toy figures to T-shirts. Her work has been featured in stores, museums, and fine art galleries around the world.

Motivated by the pure pleasure of creating art, she celebrates the power of women and creates a universe of them, full of energy, both positive and negative.




Official website

Facebook

Twitter

Instagram

PLEASE NOTE: These are the only official site and SNS accounts owned by the artist.
BIO

1973

Born in Itabashi, Tokyo, Japan, Junko was inspired by popular comics, magazines, animations, toys, and began drawing on random pieces of paper at a very early age.
1978
Junko made comics and stories in cheap sketchbooks while learning comic techniques from several how-to books for kids.
1980
Junko began making magazines with comics, stories, fake ads, fake recipes etc. Setting deadlines to push herself even though the only reader was her older sister. She also enjoyed creating dolls and doll houses out of paper and clay.
1983
As the first attempt to become a professional comic artist, Junko sent out an original comic to a girl's comic magazine publisher. The editor gave her encouraging comments but no jobs which was a natural reaction to a 10 year old.
1984-1985
She kept learning and creating comics in hope of debuting as a professional as soon as possible.
1986
Her second time sending a comic to a publisher she received encouraging comments, but again no jobs. This led her to give up on comics and decide to become an illustrator. Junko began exploring different art forms other than Japanese comics by going to bookstores and libraries.
1987
After getting a huge shock by Aubrey Beardsley's work, she began to obsessively make drawings in his art style even though she was supposed to be studying for her high school entrance exam instead.
1988-1990
Somehow Junko made it into high school. At this point she began using acrylic paint and she became more interested into erotic/fetish art by Alberto Vargas, Eric Stanton, Romain Slocombe etc.Her artwork kept getting smaller and smaller as they became more explicit, because they had to be hidden from her parents' eyes.
1991
Junko graduated from high school and started working at a grocery store as a cashier. She kept making a photo-copied hand-made art zine called "MINA", which she gave copies away to her friends.
1993
When the Sailor Moon Movie came to the theater where she was worked in, it reminded her of the joy of making characters and stories, and she began creating comics again.
1996
Editors from a pop culture magazine found out about "MINA Animal DX", a special animal-themed issue of the zine Junko made for an event. They offered her a job! Her career as a professional artist finally began.
1998
Release of the first graphic novel "Pure Trance" in Japan.
2002
Junko's second graphic novel "Cinderalla" was translated into English and released in the USA. She began attending comic conventions and events outside of Japan for book signings and talks.
2007
First exhibition in the USA showing original paintings with Miss Van and Lady Aiko at Merry Karnowsky gallery in Los Angeles.
2009
After working mainly as a comic artist and illustrator for 13 years in Japan, Junko relocated to San Francisco and started working worldwide.
SELECTED SOLO SHOWS

2016

"Takarabune" Gallery Nucleus, Los Angeles, CA, USA
2015
"Triad" Cotton Candy Machine, Brooklyn, NY, USA
2015
"Ambrosial Affair" Narwhal Art Projects, Toronto, Ontario, Canada
2014
"Belle" Atomica Gallery, London, UK
2014
"Moony" Cotton Candy Machine, Brooklyn, NY, USA
2013
"Rising" Gallery Nucleus, Los Angeles, CA, USA
2012
"Euphoria" La Luz De Jesus Gallery, Los Angeles, CA, USA
2012
"Venus Cake" Magic Pony/Narwhal Art Projects, Toronto, Ontario, Canada
2010
"Flora Delirium" Gallery Nucleus,Los Angeles, CA, USA
2010
"Deranged" Merry Karnowsky Gallery, Los Angeles, CA, USA
2009
"Desert Women" Roq La Rue Gallery, Seattle, WA, USA
1998
"Hell Babies" Gallery Art Wads, Tokyo, Japan
SELECTED GROUP SHOWS

2017

"Unicorn Ⅱ" Nucleus Portland, Portland, OR, USA
2014
"Temple of Art" La Luz De Jesus Gallery, Los Angeles, CA, USA
2012
"Lucha Libre!" Rotofugi Gallery, Chicago, IL, USA
2011
"Apocalyptic Mongoloid" CO Exhibitions, Minneapolis, MN, USA
2011
"The Ham Ba Ga Show" Q Pop Shop & Gallery, Los Angeles, CA, USA
2011
"Water Works" GR2, Los Angeles, CA, USA
2011
"New Moon 2011" Myplasticheart, New York, NY, USA
2010
"111 at 111" 111 Minna Gallery, San Francisco, CA, USA
2008
"Pop Art Playmates" with Lisa Petrucci, Mondo Bizzarro Gallery, Rome, Italy
2007
"Bestial" Iguapop Gallery, Barcelona, Spain
2007
"Heart Throb" with Miss Van and Aiko Nakagawa, Merry Karnowsky Gallery,Los Angeles, CA, USA
CURATED ART SHOW

2017

"OVUM-curated by Junko Mizuno" Gallery Nucleus, Los Angeles, CA, USA
SELECTED EXHIBITIONS & EVENTS

2015

"The Art of Toys" Museum of Art & History, Lancaster, CA, USA
2014
"Hello! Exploring the Supercute World of Hello Kitty" Japanese American National Museum, Los Angeles, CA, USA
2014
"This Is Not a Toy" Design Exchange, Toronto, Ontario, Canada
2011
Live painting/artist-in-residence, Kidrobot shop in Cosmopolitan Hotel, Las Vegas, NV, USA
2011
"Pinatarama" Museum of Modern Art, Mexico City
2010
"Small Gift" Sanrio's 50th anniversary art show, Barker Hangar, Santa Monica, CA. USA
2010
"SugiPOP:The Influence of Anime and Manga on Contemporary Art" Portsmouth Museum Of Art, NH, USA
2008
"My Little Pony Project" Chelsea Art Museum, New York, NY, USA
2008
"Fornarina Urban Beauty Show 6.0 The Call of Dreams" Paris, France
AWARDS

2007

"Japan Expo Awards 2007" French edition of "Pure Trance" (graphic novel) nominated in "Good Scenario" category.
2004
"8th Japan Media Arts Festival" "Fancy Gigolo PELU" Selected as Jury Recommended Work
SELECTED GUEST APPEARANCES

2016

"DesignerCon 2016" Los Angeles, CA, USA
2014
"Lakes International Comic Art Festival" Kendal, Cumbria, UK
2011
"Rio Comicon" Rio De Janeiro, RJ, Brazil
2008
"XIV Salon Del Manga" Barcelona, Spain
2006
"Anime Central" Chicago, IL, USA
2005
"I Seriernas Värld" Malmo, Sweden
2005
"International Manga and Anime Festival" London County Hall, London, UK
2005
"Angouleme International Comic Festival" Angouleme, France

Click here to download a complete CV.